Wireless N Routers
Basic N
price: $25 (inventory varies)
I always have a couple of basic wireless N routers. Make and model varies, but typical models would be Linksys WRT-120N or Dlink DIR-615. These are simple modern wireless N router, all most people need. The items are used, and exchanges are welcome for 90 days.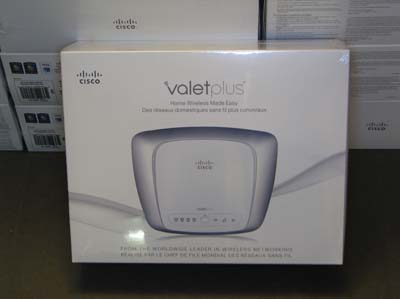 Cisco / Linksys Valet Plus (M20)
price: $35
Wireless N router compatible with Linux firmware like Tomato and DD-wrt. It has a gigabit networking switch for fastest wired networking. It also comes with a 1GB USB stick intended to make setup easier. I don't find it to be very useful for the intended purpose, but it is a nice little extra in the box. These are as new, sealed in the original box. Exchanges welcome for 90 days, but subject to $5 restocking fee if the box has been opened
Netgear WNDR3700 v1
price: $80 (only 2 left)
High end simultaneous dual band wireless N router with USB port and gigabit networking. The USB port allows you to share external hard drives, printers, or scanners, with all the computers on your network. More than that, you can connect a USB hub, so you can do all three at once or more. The WNDR3700 is DD-WRT compatible. These were bought as referbished, they still have their plastic covers on. Exchanges are welcome for 90 days.
Basic Wireless G Routers
Linksys WRT-54G2 and others
price: $15 (inventory varies)
I have several models of basic wireles G router. A bit slower than Wireless N, but generally good enough for regular use. These routers are all used, but exchanges are welcome for 90 days.
Linux Based Firmware
These routers all have at least 4MB of flash, and are known to be compatible with one or more Linux firmware distributions.
Linksys WRT-54G v1-4 and WRT-54GS v4
price: $20
A classic. Works great, works with almost all Linux firmware distribtions, many great hacks. I also have WRT-54GS v1-3 with 8MB of flash for $25. These are used, but exchanges are welcome for 90 days.